Jane Spicer — Co-Founder & CEO, Daphne's Headcovers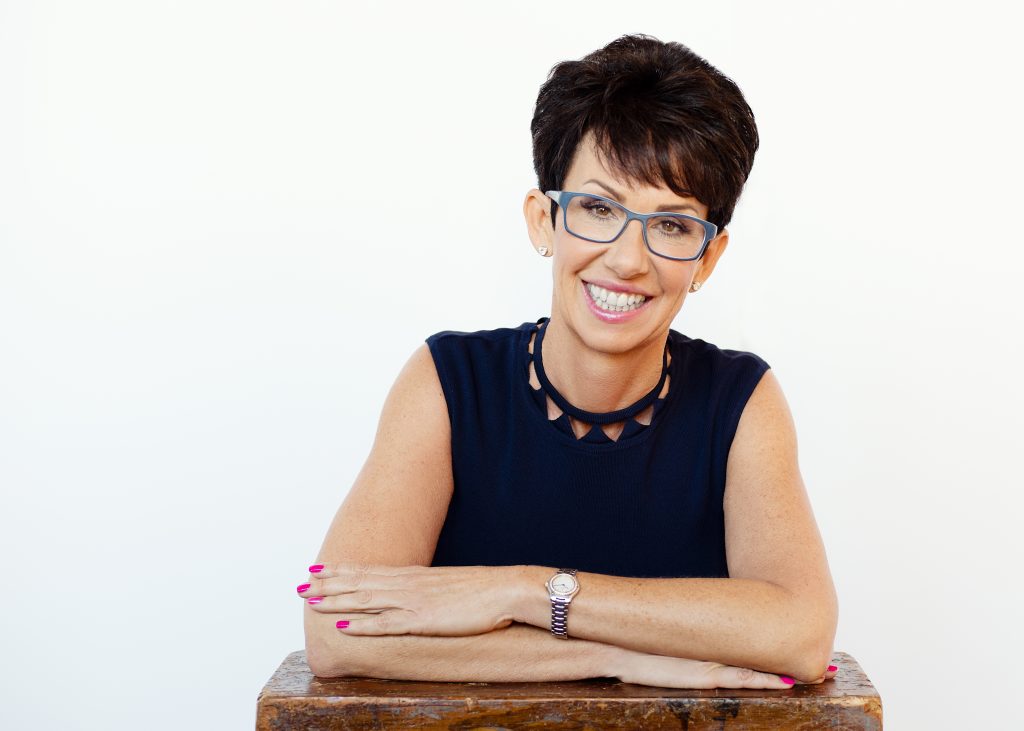 "As a 10 year-old, I discovered that I liked making my own money, and being in charge of my own destiny."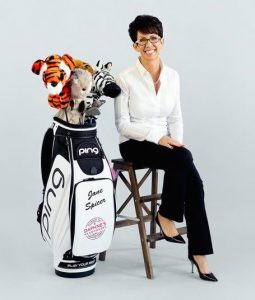 Jane Spicer
Entrepreneur / CEO of a Global Golf Equipment Company
Phoenix, Arizona
Jane Spicer is the person behind a classic American success story. Over the past 40 years, she's built one of the golf industry's most successful global companies.
Jane started out, at 10 years old, making and selling puppets at weekend arts & crafts shows, so that she could buy a sailboat. At one of those shows, someone suggested that the puppets would make great headcovers. So she gave it a try….and through sheer tenacity and a little bit of luck…Jane has grown her Arizona-based Daphne's Headcovers into a company that sells nearly 200 types of animal headcovers in 75 countries. You're likely to find a Daphne's display, and sometimes two, at almost any golf store, golf club or resort pro shop.
Jane's most famous headcover, and the one that has helped fuel her company's success, is Frank the Tiger – which is one of the most recognized headcovers in the world…thanks to Tiger Woods…or more specifically, to Tiger Woods' mother, who gave the headcover to her son.
In fact, mothers have always played an important role in Jane's life story. And in her interview of Golf Yeah, she explains why.
Show Highlights: 
Jane's long journey from selling puppets at arts & craft fairs to running a successful global manufacturer of golf headcovers.
The backstory behind "Frank the Tiger," her company's big business break, and the role that Tiger Woods' mother played.
Other Tour Pros who carry her company's animal headcovers…and why Padraig Harrington's headcover is a ladybug.
The legal protections for Jane's headcover designs, and how she discourages companies from stealing her copyrighted products.
The drama behind the order from American Express for 30,000 "Frank the Tiger" headcovers.
How her company decides which animal designs to create, and what happens to designs that don't succeed in the market.
The most challenging aspects of managing a staff and manufacturing products overseas.
Jane's charitable causes, and how she partners with PGA Tour professionals to help their charities.
What she would likely be doing, if her headcover business had not worked out.
The next big item that's on Jane Spicer's bucket list.
"Lessons learned" and words of advice for listeners who have always wanted to run their own business.
Notable Quotes: 
On advice from her mother: "I was 10 years old and wanted to buy a sailboat. My mother told me, 'Think of a business, and then run it yourself.' I discovered that I liked making my own money and being in charge of my own destiny."
On her "overnight success" story: "In college I sold headcovers basically for beer money. When I got out of college, I got a real job and I didn't like it…So I sold my car and bought a van with 2 seats and an AM radio, and I went on the road for 6 years building the business.'"
On the benefits of her 6-year experience on the road: "It was like getting my MBA. I was dealing with everybody, face-to-face. I learned so much about customer service and people, and I could handle anything in business after that time on the street."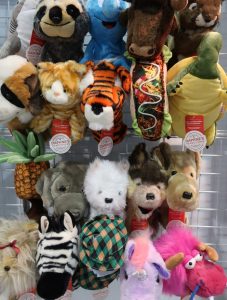 On the purpose of fun headcovers: "Beyond the protection aspect, they're a form of personal expression. When someone shows up on the first tee with their golf bag, they are starting to show their personality. Headcovers are conversations starters, and can connect people. They're a great way to show your individuality or style."
On what it took to build her business: "It wasn't glamorous. I missed many friends' weddings, and missed a lot of other things along the way. But when do you have this kind of opportunity? I just knew that I had to seize it. There was no way I was going to give it anything less than 110%."
On her golfing experience: "I've played one round of golf in 7 years. I live on a golf course, and I talk about golf all day long. And I watch golf on TV and I run a golf company. I love everything about golf, but I'm a single mom running a couple companies…so my focus has been where it should be."
On what it takes to succeed in life: How you build your true-ist and most beautiful life is by having obstacles. The universe asks you, "How bad do you want it?" That's what an obstacle is. If you don't want it that badly, that's all right. But if you really want it, your attitude will be "Get out of my way, because I'm going over or under, or whatever it takes." If you really want it, it's not for sissies."
Resources: 

Jane Spicer's Website https://www.daphnesheadcovers.com/