Exploring the Business Side of Golf ™
Welcome to Golf Yeah. 
We showcase people who've built successful businesses and rewarding careers based on their love for the game of golf. 
If you've ever thought about launching a golf product or service...finding a golf-related job...or you're curious about the business of golf...this is the place to learn the ins and outs of the industry. Enjoy listening!

David Glenz
PGA Professional David Glenz has accomplished more than a few significant milestones over the course of his golfing career.  After being voted to 2nd Team All-American, playing for the University of Oregon's golf team, David embarked on a 6-year stint on the PGA Tour. He then began his teaching career at Winged Foot Golf Club, before serving as head golf professional at Morris County Golf Club in New Jersey, where he gave more than 1,000 lessons each year during his decade-long tenure there.
While teaching, his playing career in New Jersey golf included winning 4 New Jersey State Opens, the New York Metropolitan Open, 2 Nissan Classics, the Dodge Open, 2 New Jersey PGA Championships, and 4 New Jersey PGA Match Play Championships. Based on his playing achievements, he was voted "Player of the Decade" in the 1980's and was voted into the New Jersey PGA Hall of Fame.
David was voted Teacher of the Year 8 times by the New Jersey PGA. In 1998, he was voted "National PGA Teacher of the Year." He's been honored by Golf Magazine as a Top 100 Teacher and by Golf Digest as a Top 50 Teacher.
In 1991, he opened The David Glenz Golf Academy, offering golf schools and private golf lessons at The Crystal Springs Resort in New Jersey. And in 2010, David realized his lifetime goal of designing and building a golf course, which is Black Oak Golf Club – home of the David Glenz Academy.
Learn what's driven and inspired David over the course of his career, and benefit from some of the insights he's provided for more than 100 PGA, LPGA, and PGA Senior Tour players, and the hundreds of mini-tour players and club professionals who've sought his guidance.
Whether it involves playing, teaching, selling, writing, filming, inventing, organizing, servicing or promoting…there's no limit to the stories to be told, or the lessons to be learned from the business of golf.
Golf Yeah will showcase the people who make the game and culture of golf great, as an inspiration and blueprint for others.
Subscribe to receive new episodes of Golf Yeah.
We'll send you a link to new Golf Yeah podcasts as soon as they're produced.
No sales pitches, and we won't share your email address with anyone. We promise.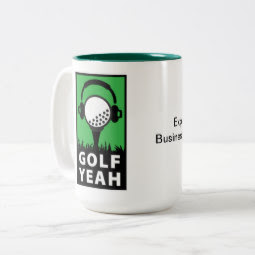 Every month we select one lucky subscriber to receive a Golf Yeah coffee mug. Subscribe today.