Pat Ruddy, Legendary Irish Golf Course Designer, Sticks His Walking Cane in My Ear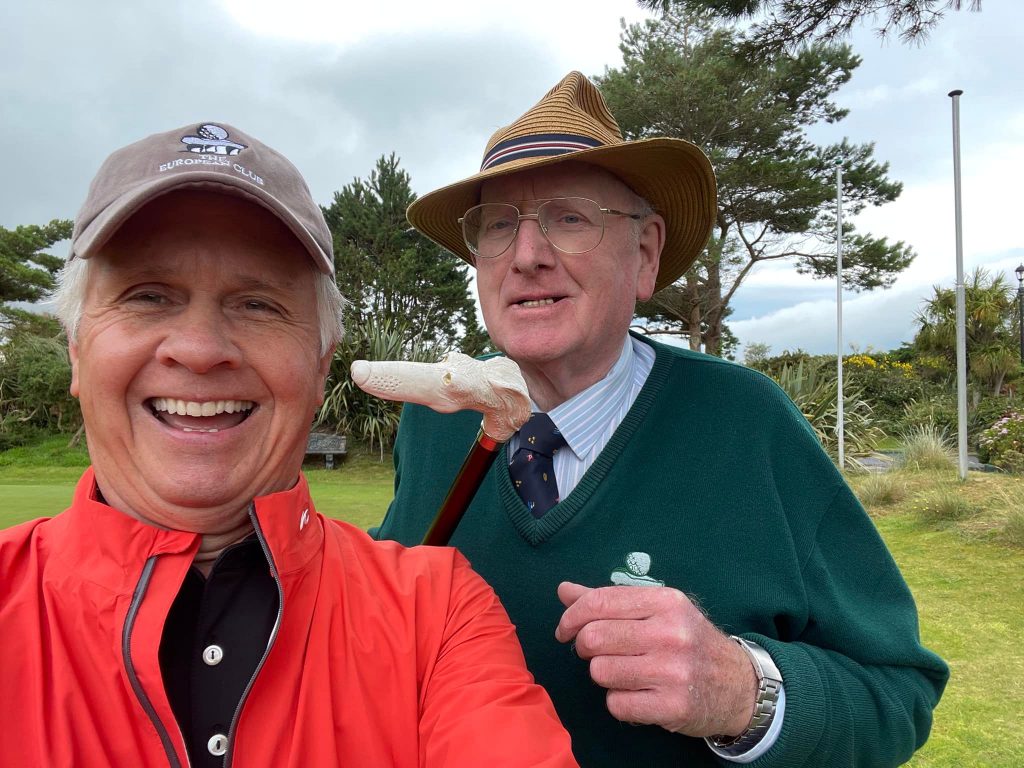 Pat Ruddy – shown here, sticking his walking cane in my ear – comes from the small town of Ballymote in County Sligo, North West Ireland. He has been consumed by golf all of his life. He was a good amateur player; he then became one of Ireland's most prolific golf writers and publishers, editing magazines, writing numerous articles and books about golf.
Moving on, he became a golf course architect. He has been called the world's leading architect for links golf courses, which are his speciality. Finally, he designed and built his own course,
The European Club
, located 30 miles south of Dublin, now a world-ranked course.
Ruddy has designed or re-modelled many of Ireland's top courses. His complete designs include The European Club, Ballyliffin Glashedy and Rosapenna Sandy Hills. He has carried out substantial work at Portsalon (13 holes), Rosapenna Old (12 holes) Donegal (11 holes), and Ballyliffin Old (7-holes). Another fine links golf course is the 'little gem' at Connemara Isles. Famous inland courses he designed include Druids Glen (with Tom Craddock) and Druids Heath.
For years, Pat Ruddy dreamed of having his own course. Very few golf course architects have achieved this. He searched for some suitable linksland and located it at Brittas Bay. He then negotiated with a farmer for the land and put together the purchase price.
Pat and his son Gerald spent five years building The European Club with their own labour. They drove front loaders and backhoes, laid irrigation pipes and overall completed about 90 per cent of the golf course themselves.
The amazing result is a very special seaside links golf course. There is great routing through towering dunes, plenty of gorse, high rough, numerous deep bunkers and some blind shots. The sea is very visible and the salty wind blows across this dramatic piece of linksland. Ruddy has been tinkering and improving or updating the course over the years.