Jim Furyk — MGWA Gold Tee Award Winner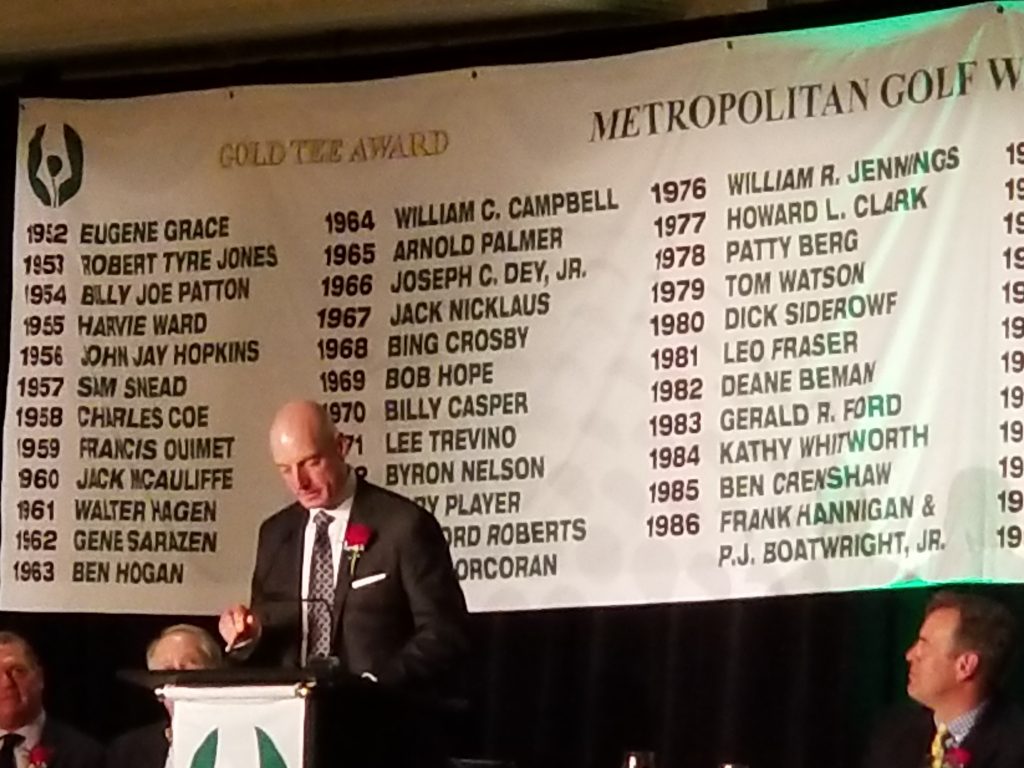 "I'm humbled to have my name included on a banner with these great names on it."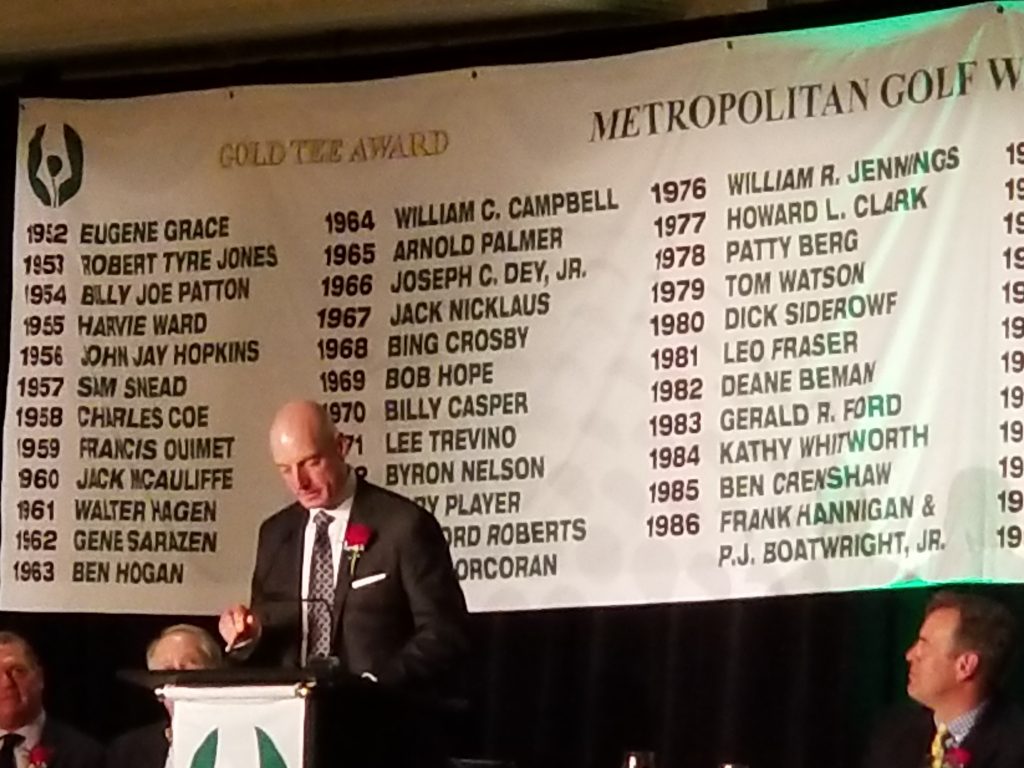 PGA Tour Professional Jim Furyk accepted the highly regarded "Gold Tee Award," from the Metropolitan Golf Writers Association at its 68th National Awards Dinner on May 13th, 2019. The award is presented to an individual whose career achievements exemplify the best spirit and traditions of the sport of golf.
One of the most respected players on the Tour, both for his playing ability and strength of character, Jim Furyk attributed his career success to:
His parents…who taught him to work hard and be the best I he could be; and "whose approval I never had to seek, because they were always proud of me."
His wife, Tabitha…who he met "in the luckiest moment in my life," and for whom he "strives to be a better person."
His agent, Andrew Witlieb…who he has "leaned on" since he hired him more than 25 years ago.
His caddie, Fluff Cowan…who he calls by his name (Mike), rather than "Fluff," and who for the past 20 years, "has never been late, is easy to be around, and is a dear friend who cares deeply about me and my family."
Since 1952, the Metropolitan Golf Writers Association has celebrated the great game of golf by honoring the outstanding players, contributors, clubs and organizations that have done so much for sport.  These initiatives are realized each year at the National Awards Dinner, which is the longest-running and often the largest golf dinner in the United States.
The MGWA National Awards Dinner has raised more than two million dollars for the Long Island, New Jersey and Westchester Caddie Scholarship programs; the MGA Foundation; and the Dave Marr Memorial Scholarship at the Columbia University Graduate School of Journalism.
Many of the sport's top journalists and commentators have been MGWA members.  Lincoln Werden, the golf writer for The New York Times during the 1950s and 1960s, was the organization's first president.  Other members, both past and present, include Dave Anderson, Guido Cribari, Will Grimsley, Arthur (Red) Hoffman, Al Laney, Dave Marr, Jim Nantz, Jimmy Roberts, Nick Seitz and Jack Whitaker.  Anderson, the Pulitzer Prize-winning columnist of The New York Times, was a long-time member of the MGWA's Board of Directors.